Gateway Properties of Upstate NY, Inc. specializes in Wildlife Management, including Quality Deer Management & Habitat Restoration for any game and non-game species in Upstate New York & the Adirondacks.
We, at Gateway Properties, perform services including Wildlife Management Plans, food plot preparation and maintenance, brush pile and corridor building, population estimates and prescriptions. In addition to all this, we can also tailor to the sportsman as much as to build and set up ground blinds and heated tree stands.
Our food plot preparation starts with strategic location planning, and land clearing. From there we would perform soil tests through Penn State & or Cornell. The land is then worked accordingly and seed is sewn with a special blend of clovers and chicopee that grows exceptionally well in the Adirondack soils. Maintenance can then be done throughout the growing season to ensure a healthy crop and a high protein, and mineral source for your wildlife populations.
Corridor building is done to enhance natural wildlife travel routes and create funnels that concentrate certain areas of deer movement. this enhances hunting situations and makes it easier for us to take the wildlife population surveys.
After the land is cleared or opened up for habitat enhancement or food plot preparation the brush may be gathered and piled around your property. This provides excellent habitat for a variety of animals including grouse, cottontail rabbits, squirrels and other small mammals.
For the more serious outdoorsman and environmental steward, a Wildlife Management Plan may be written including, population estimates for deer & turkey. This will allow us to suggest the proper number of males to females that should be harvested every year to establish the healthiest possible herd or flock, which then in turn produces larger healthier trophies.
Ground blind and tree stand assembly are also available. We specialize in anything from simple ladder stands and small tree seats to large 2-3 person heated platforms.
This plot is a 1 acre plot right on the edge of a nice hardwood lot. It was planted in the summer with white clover blend. You can see how the plot looked from the time it was planted to when it was grown. This plot will last for several years with little maintenance and offer food from early spring untill mid fall.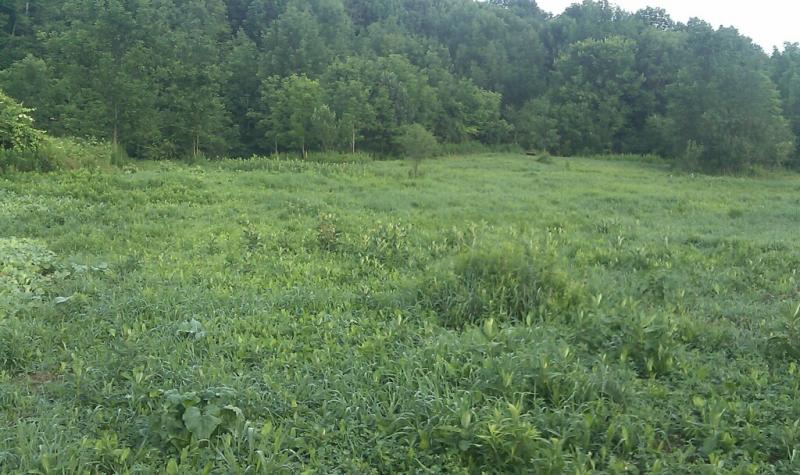 These plot was planted in the summer of 2010. There are two annual plots planted with Oats and Brassica. The main perenial plot was planted with white clover and alfalfa.